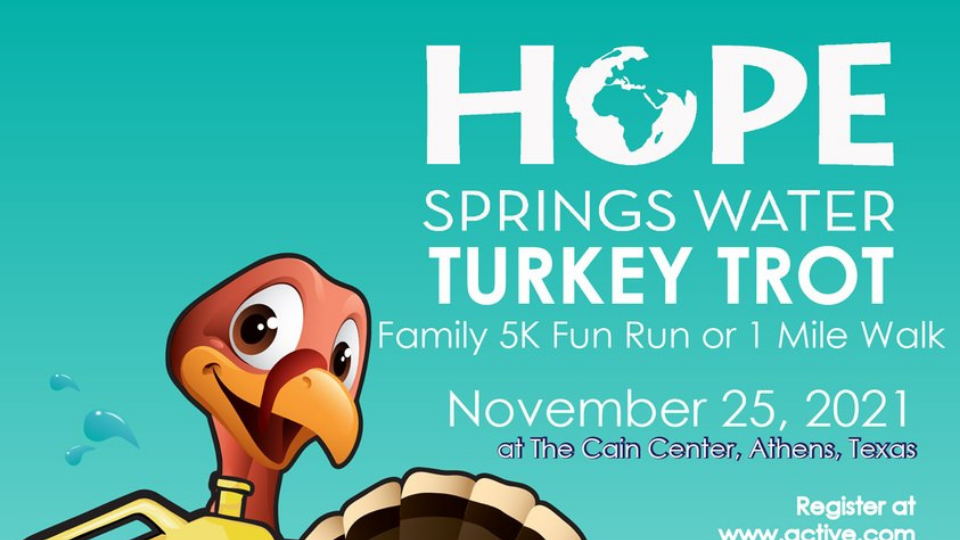 Time This event has already ended!
Date: Nov 25, 2021
Time: 8:00 am - 9:00 am
Since 2010, Hope Springs Water has provided hope to the developing world through clean water, improved sanitation, and public health and hygiene education. Hope Springs Water sees every one of the 844 million people who lack basic drinking water access and the 2.3 billion without proper sanitation as individuals deserving of a life lived in health and dignity. The profits from this year's race will be used to drill wells in Africa and Central America. The average woman in rural Africa walks 6K every day to haul 40 pounds of water. We invite you to freely run 5K will us on their behalf. What better way to show gratitude for clean water than by giving it to others? Run for water on Thanksgiving Day in Athens!
We will be following all updated locally required COVID-19 precautions at the time of the event.
Event details and schedule:
Packet Pick-Up will be in the Groom & Sons parking lot 219 S Palestine St, Athens, TX 75751 from 3pm - 5pm Wednesday, Nov. 24th.
Cost is $45 for the 5K, $35 for the 5K (under 12), and $25 for the 1 mile fun walk.
Race Day Schedule, Thursday, November 25th, 2021
-- 7:30 am Registration Open
-- 8:00 am 5K Start Time (staggered start)
-- 8:05 am 1 Mile Start Time