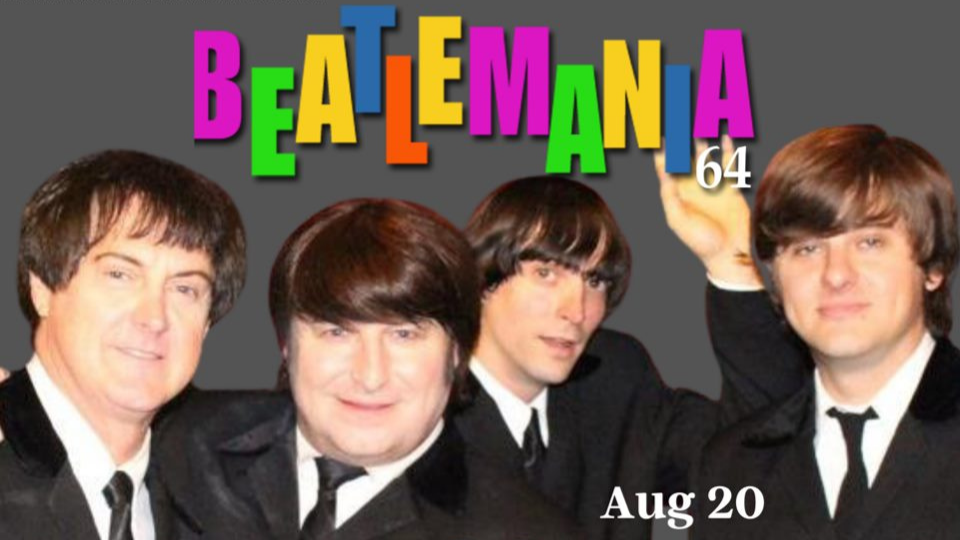 Time This event has already ended!
Date: Oct 23, 2021
Time: 7:00 pm - 10:00 pm
October 23, 2021 at 7 pm
Cain Center
915 S. Palestine St, Athens, TX 75751
Beatlemania is produced by Stardom Entertainment.
Ticket line is 817-251-1316
Beatlemania64 kicks off with Shake Rattle & Roll, doo-wop group from East Texas, with their rocking pre-show!. The ladies will have you rockin' n rollin' in your seats setting the stage for the Beatles.
A TRIBUTE TO THE BEATLES is a live multi-media spectacle that takes you on a musical journey through the life and times of the world's most celebrated band.
Beatlemania64 is the world's leading tribute of The Beatles. Beatlemania64 is proud to be the only Beatles tribute band ever endorsed by Sid Bernstein, who brought The Beatles to America for their first official show in Carnegie Hall. Beatlemania features hits that you know and love from the early '60s to the early '70s.
Beatlemania64 performs the hits that you know and love from the vast anthology of Beatles classics, such as "I Want To Hold Your Hand," "Hard Day's Night," From Me to You), to name a few.
This stunning live concert event takes you back to Beatlemania in its heyday in the year 1964. The cast of The Four Fabs portrays the legendary foursome delivering a note-for-note theatrical event that is the next best thing to The Beatles.
Over one million fans have attended their performances, featuring period costumes, instruments, and a high-energy show that pleases audiences of all ages.