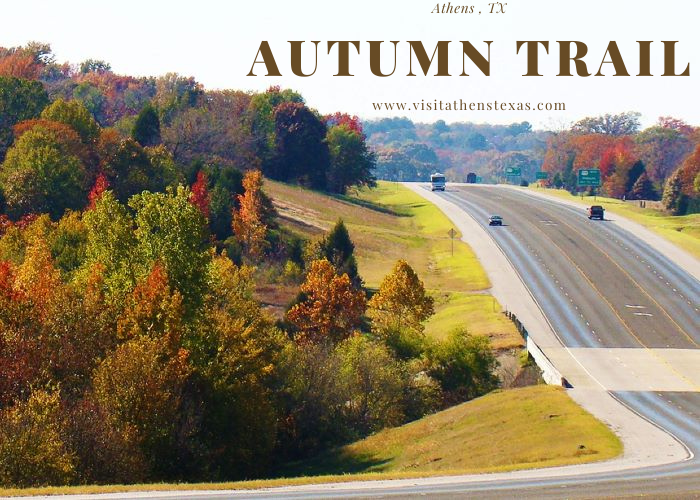 Time This event has already ended!
Repeats: Yearly
Last Date: Nov 8, 2022
Time: All Day
Starting mid-November, the fall foliage in East Texas reaches its peak. Athens sits just inside the Texas Forest Trail Region and is an ideal location to see fall colors in Texas. The rolling hills add just enough dimension to showcase the vibrant reds, oranges, golden yellows.
Athens portion of this tour is a 55-mile self-guided driving adventure. The tour does extend through the City of Palestine to make it an easy weekend trip.
On the map provided below, there are some amazing places indicated on the map. They are authentic to Athens and are worth the look. To get out and stretch your legs, East Texas Arboretum, Lake Athens, Texas Freshwater Fisheries Center and New York Ziplines will do just the trick.
Anyone interested in doing a wine tasting? We have 4 award winning wineries with their own unique personality. Between Tara Winery, Castle Oaks Winery, 3P's in a Vine Winery, and White Fox Winery, there will be a place that suites everyone's needs.
For more information about the Fall Foliage Tour, call the Tourism Department at 903-675-8039 or email visitathenstx@athenstx.gov.
See you in the Fall!