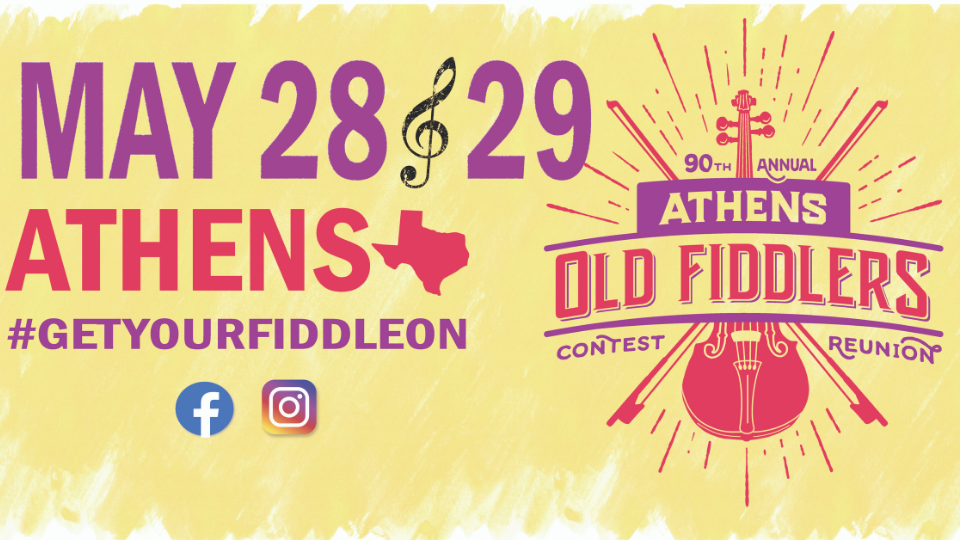 Time This event has already ended!
Date: May 28, 2021 - May 29, 2021
Time: 12:00 am - 12:00 am
The longest running fiddle contest in Texas! Carnival, jam sessions, live music, street dances, food vendors, all ages fun! As always, Old Fiddlers is a FREE event!
Friday night will be a street dance from 7 p.m. to 10:30 p.m. with Athens native, a master of Honky-Tonk, Jake Penrod and His Million Dollar Cowboys.
Saturday's fiddle contest will run from 10 a.m. to approximately 6 p.m. and will be followed by the acoustic guitar picking contest. After the contest on Saturday, there will be another street dance with Jody Nix & The Texas Cowboys from 8:30 to 11:30.
The fiddle contest will be broken down into six divisions with more than $5,000 in prize money at stake, so set up your chairs on the courthouse lawn and get ready for some great music.
There will be wonderful food vendors around the square, so we have everything you need for a great day!
The carnival will also be in town Thursday, Friday, and Saturday in the city parking lot behind The Texan. The carnival will be open 5-11 pm on Thursday and Friday and 11am to midnight on Saturday. Ride tickets are $1 each or purchase a bracelet for unlimited rides costing $25.
Since the carnival will be in the location of the weekly Athens Farmers Market, they will be joining the festivities on West Tyler Street beside the Henderson County Annex from 9-1.
All the concerts will be outdoors this year, but we will have a Fiddlers Market inside The Texan on Saturday from 10-3. If you would like to be a vendor, contact Katie Birk at 903-675-8039 or email texaninfo@athenstx.gov.
The music is free with seating on a first come basis. Call 903-675-8039 for more information.
The entire community is getting involved for this year's Reunion.
211 Gallery, located just a block north from the competition, will be hosting a Canvas & Cork painting session from 1-3p on Saturday. Local artist, Christi Barrett, will teach a fiddle inspired painting while enjoying a beverage of your choice. Registration will be required so stay tuned for more details.
The East Texas Arboretum will be displaying one hundred or more wooden fiddles painted by the community and supporters of the Arboretum. They will be on display the entire week of Fiddlers Reunion.
Texas Freshwater Fisheries Center will be offering FREE admission to anyone who brings their fiddles and just wants to jam out. So, you might get to hear some fiddlin' while fishin'!